PMD Shaker Screen Sent To UAE
On Aug.1st, TR finished the production of a batch PMD shaker screens for Derrick 500 series shale shaker finally. They are ordered by an oilfield service company from UAE, and already packed waiting for delivery. In drilling mud recycling system, shale shaker screen is fine mesh (single, dual or triple layered) used for filtering and separating drilling cuttings from mud (drilling fluid). Also it is of great importance to drilling efficiency.
Specialties of TR PMD shaker screens:
Screen panels are composed of two or three 304 or 316 stainless steel wire cloth layers after compounded and bent, with a steel backing plate combined together.
Wave screen has large effective area, while drilling fluid can be treated in high efficiency by using it.
Every wire cloth in the sieving screen has different meshes, also accurate collocation can make screen has better using effect.
Stainless steel wire cloth is wave, and closely holds to metal support plank together. The effective area is up to 125% to 150% of flat screen with the same specification, so as to improve handling capacity.
Main Specifications of TR PMD Shaker Screen:
Model

Model of Shaker
Mesh Range
Dimension

Length×Width

Weight

TRP-1

DERRICK FLC2000 Shale Shaker
40-325
1053×697mm
6kg

TRP-2

DERRICK FLC500 series Shale Shaker
40-325
1050×697mm

7.8kg

TRP-3
Brandt BL-50
40-325
635×1253mm

9.3kg

TRP-4
TRZS833
40-325
1080×830mm

10.4kg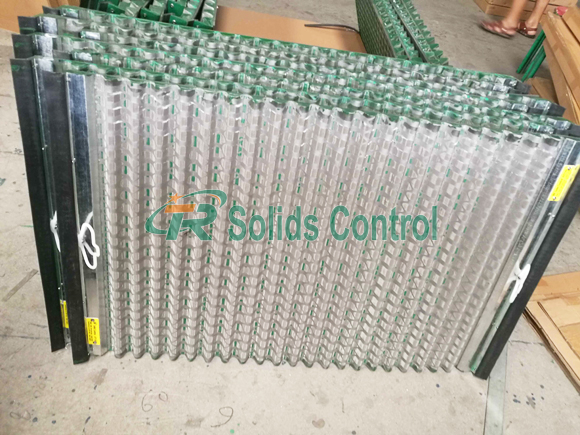 TR Solids Control could supply one-stop service of shaker screens. Most importantly, our screens have good separation effect, long service time and meet API standard. They are widely used in trenchless HDD, Drilling Waste Management, city bored piling, oil & gas drilling, tunneling construction, Coal Bed Gas Solids Control System, micro-tunneling, etc. Welcome your quote at any time!
Contact Us: Maggie Xian|Sales Manager
Sales office: No.10 West of North 2nd Ring Road Xi'an City.

Manufacture: No.60 Caotang Industry Zone Huxian County Xi'an City.

Tel:+86-29-86332919

Call:+86-13186019625

E-mail: maggie@trsolidscontrol.com