Drilling Fluid System
Drilling Fluids System is a technique used for well drilling to provide prepared drilling fluids for drilling rigs.It maintenance cost, clean up, and disposal cost as well as the overall cost of boring can be reduced dramatically when proper solids control techniques are utilized.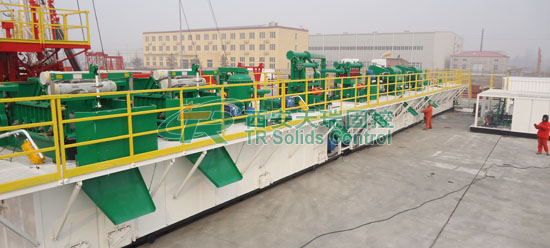 Drilling Fluids SystemThe multifunctional design of TR Solids Control Drilling Fluid System enables the overall system to meet the requirements of various well depths and drilling fluids. Each solid control equipment can operate independently or collectively with the others.TR Solids Control is able to manufacture the mud circulating system for ZJ70, ZJ50, ZJ40, ZJ30.
Oil drilling Fluids System  including following solids control equipment:
1) Shale Shaker for primary solids control 100 microns.
2) Desander for second phase solids control of cuttings 40 microns.
3) Desilter for third phase solids control of cuttings 20 microns.
4) Decanter Centrifuge for the 2-7 microns fine solids separation.
Oil drilling Mud System normally including following mud tanks depends on the function of the mud tanks:
1) Silting mud tank ( Shaker Tanks)
2) Active Mud Tank
3) Suction Mud Tank
4) Mixing Mud Tank
5) Storage Mud Tank
TR Solids Control is a professional manufacturer for producing drilling Fluid System and drilling Mud System. We are an exporter of drilling mud solids control.Our factory approval the API.TR solids control is the designed,selling,production,service and delivery of Chinese drilling fluid system manufacturers and drilling mud system supplier.Your best mud solids control start from TR solids control
Sales office:No.10 West of North 2nd Ring Road Xi'an City.
Manufacture: No.60 Caotang Industry Zone Huxian County Xi'an City.
Tel:+86-29-86332919
Call:+86-13186019379
E-mail:sales@trsolidscontrol.com
Web:www.chinasolidscontrol.com